Ivory Coast's political capital is Yamoussoukro in the centre of the country, while its economic capital and largest city is the port city of Abidjan. It borders Guinea and Liberia to the west, Burkina Faso and Mali to the north, Ghana to the east, and the Gulf of Guinea (Atlantic Ocean) to the south.
Before its colonization by Europeans, Ivory Coast was home to several states, including Gyaaman, the Kong Empire, and Baoulé. The area became a protectorate of France in 1843 and was consolidated as a French colony in 1893 amid the European scramble for Africa. It achieved independence in 1960, led by Félix Houphouët-Boigny, who ruled the country until 1993. Relatively stable by regional standards, Ivory Coast established close political and economic ties with its West African neighbors while at the same time maintaining close relations to the West, especially France. Ivory Coast experienced a coup d'état in 1999 and two religiously-grounded civil wars, first between 2002 and 2007 and again during 2010–2011. In 2000, the country adopted a new constitution.
Ivory Coast is a republic with strong executive power vested in its president. Through the production of coffee and cocoa, the country was an economic powerhouse in West Africa during the 1960s and 1970s, though it went through an economic crisis in the 1980s, contributing to a period of political and social turmoil. It was not until around 2014 that the gross domestic productagain reached the level of its peak in the 1970s. In the 21st century, the Ivorian economy has been largely market-based, and it still relies heavily on agriculture, with smallholder cash-crop production being predominant.
The official language of the republic is French, with local indigenous languages also being widely used that include Baoulé, Dioula, Dan, Anyin, and Cebaara Senufo. In total, there are around 78 different languages spoken in Ivory Coast. The country has large populations of Muslims, Christians (primarily Roman Catholics), and various indigenous religions.
For more than three decades after its independence from France, Ivory Coast was known for its religious and ethnic harmony, as well as its well-developed economy.
The Western African country was hailed as a model of stability. But an armed rebellion in 2002 split the nation in two. Since then, peace deals alternated with renewed violence as the country slowly edged its way towards a political resolution of the conflict.
Despite the instability, Ivory Coast is the world's largest exporter of cocoa beans, and its citizens enjoy a relatively high level of income compared to other countries in the region.
FACTS
The Republic of Ivory Coast
Capital: Yamoussoukro
Population

 23.7 million

Area

 322,462 sq km (124,503 sq miles)

Major languages

 French, indigenous languages

Major religions

 Islam, Christianity, indigenous beliefs

Life expectancy

 52 years (men), 55 years (women)

Currency

 CFA (Communaute Financiere Africaine) franc
LEADERS
President : Alassane Ouattara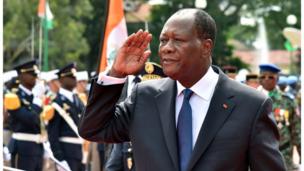 Alassane Ouattara has been in power since his predecessor, Laurent Gbagbo, was forcibly removed from office after refusing to accept Mr Ouattara's internationally recognised victory in the November 2010 presidential election.
In 2015, Mr Ouattara won a second five-year term with nearly 84% of the vote, in an election described as credible by US observers.
A US-educated economist from the Muslim north, Mr Ouattara served as President Felix Houphouet-Boigny's last prime minister after a long career at the International Monetary Fund.
MEDIA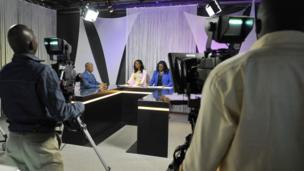 The government operates the outlets with the widest reach, including TV and radio networks and the main daily newspaper.
There are no privately-owned terrestrial TV stations.
The media are kept under close government scrutiny, says Reporters Without Borders.
TIMELINE
Some key dates in the history of Ivory Coast: